The Vieux-Chalet table
Restaurant
In restaurants and hotels alike, we want you to feel "at home"! The Half-board offers you a varied menu with many starters, main courses and desserts to choose from.
Half board is reserved in advance and for the duration of the stay. This is served at the restaurant Le Vieux-Chalet or in the dining room of the Beau-Séjour.
It costs 38 CHF per adult per day, and 22 CHF per child (up to 12 years old included), excluding drinks, for a choice between starter or main course and dessert and an additional 7 CHF for a 3 course menu.
However, at any time, our guests can choose to eat à la carte. Their Half-board package will then be re-credited to them.
On request, we will be happy to prepare cakes and other surprises for weddings, family events, birthdays or special evenings.
Then, as far as family stay are concerned, we will always be happy to welcome your children, serve them a meal quickly so that you can fully enjoy the evening. Do not hesitate to ask for our services for the provision of a high chair during the various meals. Never hesitate to contact us to heat up a dish or bottle, we will do it with pleasure!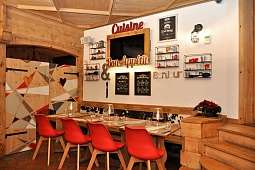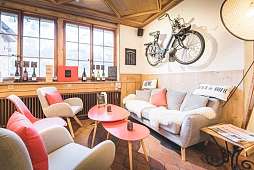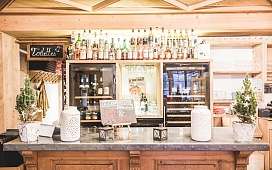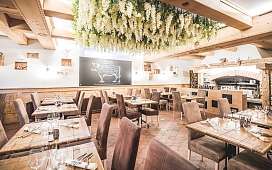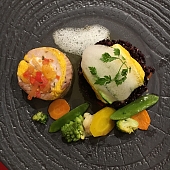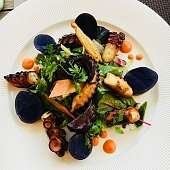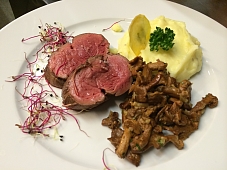 Le Chef David Baruthio, Maître Cuisinier de France (chef et gérant du restaurant) vous accueillera avec plaisir pour un repas à la carte ou dans le cadre de notre offre de Demi-Pension. Celle-ci se compose d'un menu entrée-plat-dessert à double choix, au gré des saisons et du marché.
La Demi-Pension doit être réservée à l'avance et pour toute la durée du séjour, le tout servi au restaurant Le Vieux-Chalet.

Elle coûte 38 CHF par adulte par jour, et 22 CHF par enfant (jusqu'à 12 ans inclus), hors boissons, pour un choix entre 2 entrées, 2 plats et 2 desserts.
Sur demande, le chef peut préparer un menu spécial pour une fête de mariage, des événements de famille, anniversaires ou soirées spéciales.

En ce qui concerne les séjours en famille, nous nous ferons toujours un plaisir d'accueillir vos enfants au restaurant et de leur servir un repas rapidement afin que vous puissiez pleinement profiter de la soirée. N'hésitez pas à faire appel à nos services pour la mise à disposition d'une chaise haute lors des différents repas. N'hésitez pas à solliciter les équipes du restaurant pour réchauffer un plat ou un biberon, ils le feront avec plaisir!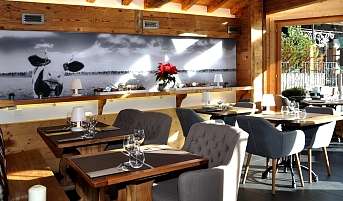 The Café-Restaurant le Vieux-Chalet can be considered as an autonomous establishment and thus constitutes a public restaurant. Tourists, visitors and inhabitants of Champéry come to taste mainly meat cooked over a wood fire; grilled meats and brooches over a wood fire which have made the reputation of this place since its construction in 1913.
Restaurant à la Carte, this establishment offers you a balanced Menu with typical dishes from the valais. At Le Vieux-Chalet, a warm atmosphere, quick service and a friendly welcome are the key elements we want to showcase.
At each of your visits, we always appreciate your comments, comments and opinions. We also invite you to regularly give your opinion on Tripadvisor directly on the restaurant's website.