The Vieux-Chalet table
Restaurant
In the restaurant as in the hotel, we would like you to feel "at home"!
The restaurant le Vieux Chalet welcomes you during your stay in an alpine chalet setting, a continuation of the warm atmosphere you can find throughout the hotel.
Since December 2022 it is managed by the hotel and is open to all; its own clientele, as well as to external clients; residents and secondary residents.
It is composed of several spaces offering many possibilities (high table, small intimate tables, large family table).
The chef proposes a French cuisine with alpine accents. Two classic menus and a Gourmand menu are available, as well as some à la carte dishes. The menus change during the week and the season and the kitchen offers special menus for festive occasions.
You will also find at the Vieux Chalet a lounge bar area "by the fire" allowing you to have a drink before or after your meal in comfort.
To enjoy a table at Le Vieux Chalet and not have to go out in the cold after your end-of-day spa, don't hesitate to reserve in advance, places are limited.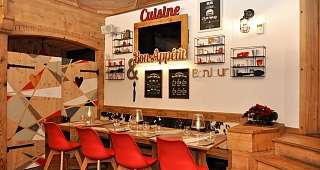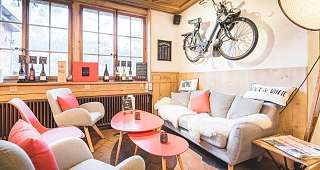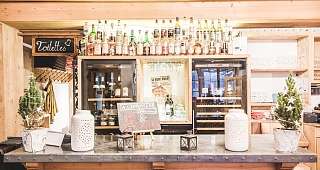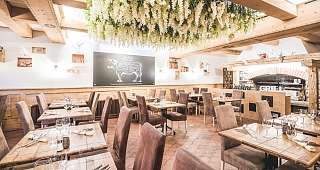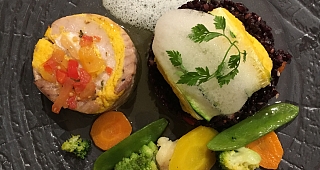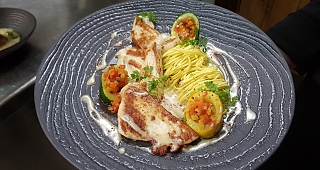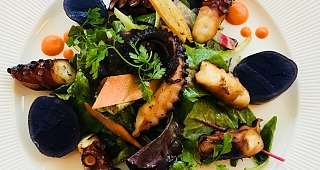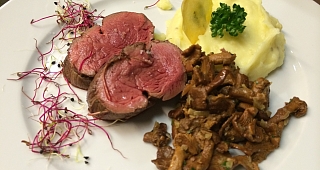 The half-board offer is a combination between menus and a small Restaurant card to choose from.
Half-board is reserved in advance and for the duration of the stay. It is served at the restaurant Le Vieux-Chalet.
It is a 3 courses Menu at the price of 45 CHF per adult per day, and 25 CHF per child per day (up to 12 years old included), excluding drinks. If you do not reserve in advance, or for just one evening stay, the price is of 55 CHF.
On request, we will be happy to prepare cakes and other surprises for weddings, family events, birthdays or special evenings.
Then, as far as family stay are concerned, we will always be happy to welcome your children, serve them a meal quickly so that you can fully enjoy the evening. Do not hesitate to ask for our services for the provision of a high chair during the various meals. Never hesitate to contact us to heat up a dish or bottle, we will do it with ple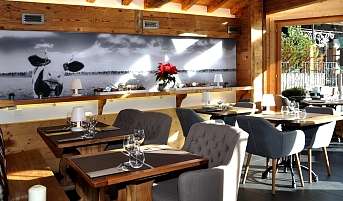 The Café-Restaurant le Vieux-Chalet can be considered as an autonomous establishment and thus constitutes a public restaurant. Tourists, visitors and inhabitants of Champéry come to taste mainly meat cooked over a wood fire; grilled meats and brooches over a wood fire which have made the reputation of this place since its construction in 1913.
Restaurant à la Carte, this establishment offers you a balanced Menu with typical dishes from the valais. At Le Vieux-Chalet, a warm atmosphere, quick service and a friendly welcome are the key elements we want to showcase.
At each of your visits, we always appreciate your comments, comments and opinions. We also invite you to regularly give your opinion on Tripadvisor directly on the restaurant's website.